Results of the Pion Beta Experiment
---
Preliminary results of the 1994 beam time.
---
In 1994, the Pibeta Collaboration studied the responses of an array of 25 CsI calorimeter modules to monoenergetic beam of positrons and electrons of 70, 50, 30 and 20 MeV/c.

The figure below is the response of the array to a beam of 70 MeV/c positrons. Monte Carlo Simulated events have been superimposed on the data. The energy resolution is 4.5 MeV.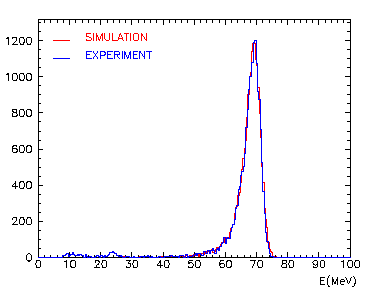 ---
K.Assamagan, 9 Nov 94